(coincidence: this is our 13th post!)
Name: Mats Johan Sundin
Nickname: The Big Swede
Birthday: Feb 13, 1971 in Bromma, Sweden
Mats was drafted by the Quebec Nordiques first overall in 1989. After four seasons in Quebec, Sundin (and other people) was traded to Toronto for Wendel The Great (and other people) in 1994. From what we've heard from those who were alive and old enough to remember that time, many people disliked him from the beginning because he was the reason Wendel left. Mats, however, quickly won everyone over with his awesome awesomeness. When Doug Gilmour left the Leafs, Mats was named the first (and so far, only) European-born captain in team history.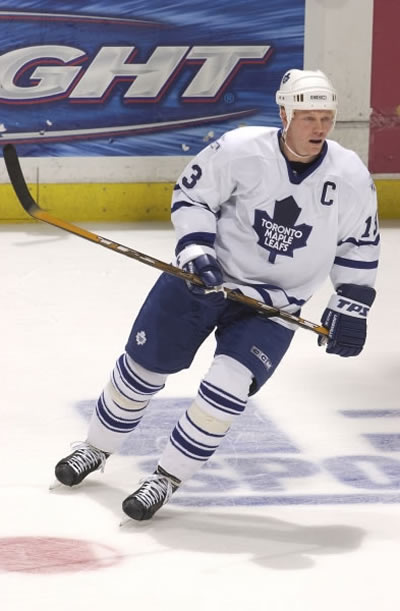 Both of us grew up during the Mats era. My earliest Leafs memories include chanting "13! Mats Sundin!" every time he touched the puck. He was the face of the Leafs during the good times (yes, we were good once upon a time) and bad. Even during our darkest days, Mats would always do what was best for the team. Here he is trying to rip Toskala's head off. How nice of him.
Most of you should be familiar with the way Mats ended his time in Toronto. He was given a no-trade clause by The GM Who Shall Not Be Named and was under pressure from the fans and the media to waive it so the Leafs could trade him for draft picks/prospects/unicorns. He refused and said he wanted to remain a Leaf, and not become a rental player for a Cup contender. Yet when his contract was up, he signed with the evil Vancouver Canucks during the 2008-2009 season. Sundin played exactly half of the regular season and the Nucks were eliminated in the 2nd round of the playoffs by Chelsea Dagger. That offseason, Sundin announced his retirement.
Many members of Leaf Nation still harbour a grudge against Mats for refusing to waive his NTC, and even both of us are divided on our opinion of how that whole fiasco played out. Despite that, Mats was the best player for the Leafs in our lifetime, and arguably of all time. He holds the records for the most goals, assists by a forward, and points in team history, and is tied for the most assists in a period with Tucker, Stajan and MacArthur, none of whom will ever reach the same level.
Our MMMM (Most Memorable Mats Moment) occurred on October 14, 2006. Mats ripped a slapper past Miikka Kiprusoff of the Calgary Flames in OT. It was a short-handed goal, it was the game-winning goal, it was his third of the night, and it was the goal that made him the only Swedish player to reach the 500-goal plateau. Here it is, in all of its goaliest glory:
There you have it. An idol to all of us young'uns, a Mats appearance will be sure to make rooms all across Leafs Nation just a little bit dustier.
His number will be honoured this February
, and rightfully so. And from two fans who grew up watching him play, a big thank you to Mats Sundin.