Hey everyone, Will here. Shelly and Emily invited me to do a guest post for them, so here it is. If you're interested in reading more of what I have to say, follow me on Twitter:
@sidstache
. (And if you haven't followed
@shell871
and
@leafloveremily
yet, you're a loser. Go do that.)
Anyway, this post is the first in a series of player profiles we'll be doing here at GS for major NHL draft prospects as June 22 closes in. A brief note on the guy I chose to profile: I wanted to profile a non-junior player, since my good Canadian friends Shelly and Emily are surely more familiar with most of them than I am. I also wanted to profile a defenseman, since I play the position myself and am somewhat more familiar with evaluating it than the forward position (and certainly the goalie position). So basically, I decided to profile the top-rated European defenseman in the draft. And without further ado, here he is…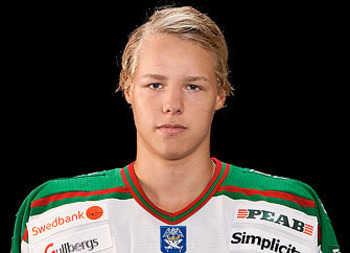 Name:
Hampus Lindholm, D
Birthdate:
Jan. 20, 1994
Size:
6'2.5", 196 lbs
Shoots:
Left
Current Team:
Rogle BK (SuperElit, Allsvenskan)
Prospect Rankings:
4th, European skaters (NHLCSB); 32nd overall
(thehockeywriters.com), 41st overall (thescoutingreport.org)
Scouting Report:
There isn't much information or tape out there on Hampus Lindholm, but I'll give this my best effort. Lindholm is an outstanding skater, with little work to do in that area; this is the main reason he is a top-50 prospect. Lindholm's primary use to an NHL team will be as a puck-moving, offensively-minded defenseman. As noted before, his skating ability is elite. He also possesses an accurate shot from the point, and is equally comfortable using a wrister or a slapper from the back end. His passing ability is that of a solid, but not elite, puck-mover. He tended not to be used on the PP for Rogle's Allsvenskan team (likely due to his youth relative to the rest of the league), but he certainly profiles as a player who could potentially fill the role at some point in the NHL.
However, Lindholm will have to do some work in order to become an adequate NHL defender. He isn't yet able to take full advantage of his skating ability as a defender, as his gap control on the rush and physical play both leave something to be desired. His physical play, in particular, is discouraging: at times, he can be too aggressive and take himself out of position in an effort to make a big hit; conversely, he also has a tendency to leave himself vulnerable to big hits from opponents. However, he certainly does not shy away from contact, and he has the size and frame to physically compete with (albeit not dominate) NHL forwards, if he can refine his mindset and technique.
In short, Lindholm can be described as a skilled but raw offensive defenseman, with the talent and wherewithal to be a decent PP point man in the NHL, as well as the size and skating ability to become an asset in the defensive zone as well.
Video:
Not much to be had, given the league Lindholm plays in, but here are a couple clips. Lindholm is #5 in white in both. The
first clip
is a shot of Lindholm scoring a goal from the point (skip to 5:27). All five defenders wind up below the tops of the circles, so the situation resembles a PP once Lindholm gets the puck, though it isn't. Lindholm receives the puck, takes his time and calmly analyzes traffic in front for a second, and then snaps a hard wrister high, glove-side past the downed netminder. The best of Lindholm is on display here: the offensive-zone poise and strong, accurate wrister are the tools that may eventually get him PP time for an NHL team.
The
second clip
is less encouraging, however (skip to 1:21). Lindholm is the far-side defenseman in this play. Number 15 in dark carries the puck into the offensive zone, and takes full advantage of the room Lindholm allows him to skate the puck to the top of the circle and leave a drop pass for a teammate entering the zone on the wing, who sends a pass-off-the-pads to the third forward for an easy tap-in. Lindholm's defensive problems show up here. His lack of gap control allows the opposing player room to skate the puck into the offensive zone – when number 33 in white attempts to stand up on the puck carrier at the blue line, the puck carrier simply maintains possession of the puck and cuts towards Lindholm's side. Later in the sequence, Lindholm attempts a check on 15 after he leaves the drop pass (possibly trying to make up for leaving so much room for the player to skate the puck into the zone), but the check is of little effect and takes Lindholm out of position (though this ultimately did not matter as the puck quickly found the net regardless).
Ceiling:
Tops out as a second-pairing NHL defenseman, with a chance to earn first-team PP time. Will never be a shutdown-pairing player, though.
Floor:
Doesn't fully develop the physical ability and defensive-zone sense necessary for the NHL; never fully makes the leap to North America.
Draft Range:
Could go as high as 20th; should not be there after the 50th pick. Makes sense as a second-round defense project for a team drafting a talented, NHL-ready player (especially a forward) in the first round.
NHL Comparison:
Paul Martin